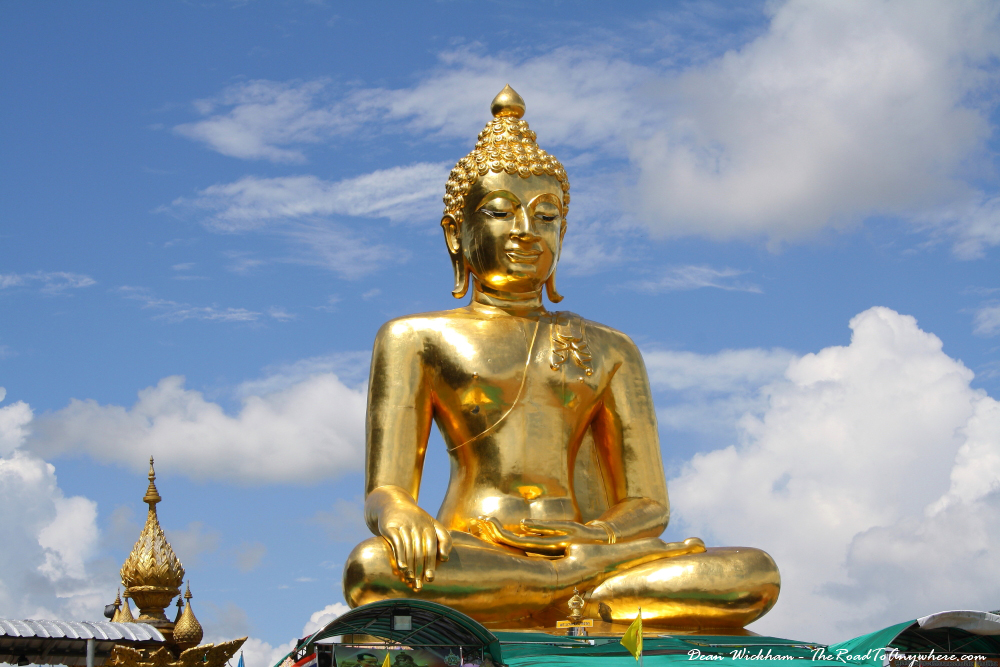 I have never been there, but I'm told that the Buddhist temple of Wat Traimit in Bangkok is not one of the city's most impressive temples. What does make it worth a visit, out of almost any other temple in the whole of Thailand, is that it houses the statue of the Golden Buddha.
10ft high, and emanating a deep glow, the statue is made entirely of gold and weighs 5½ tons. That's impressive enough, but what is truly impressive is the story of the Golden Buddha.
During one of the country's conflicts with Burma (now Myanmar), the monks of the temple where the statue was based feared that their beloved statue would fall victim to looters.
To prevent this travesty, they decided to cover the statue in thick plaster – thus disguising its true value. The trouble was that they did such a good job that when they passed away, so did any memory of the statue's true nature.
It remained cased in plaster for more than two centuries, moving from place to place, perceived as having less and less value as the years rolled on.
One day, however, during an attempt to transport the statue to a new temple, it slipped from the crane and fell into the mud. It stayed in the mud overnight, during which time a monk from the nearby temple had a dream that the statue was divinely inspired.
In the morning he visited the muddied statue and saw a glimmer of gold shining out from a crack in the plaster, and so began the journey of restoring the Golden Buddha to its rightful place in the hearts of the thousands of locals and visitors who draw strength and inspiration from the statue every year.
I share this tale with you as a way of opening up a question.
The question I must ask is "What's your plaster?" What fears, what beliefs, what assumptions are currently hiding your true brilliance from the world?
Very often our plaster has been stuck to us for many years. So long, in fact, that, like the passing away of the monks who knew the statue's true nature, we forget we were ever anything more than a mask of our true selves.
The saddest part is that all too frequently, we plastered ourselves not because it was the right thing to do, but because we allowed the beliefs, fears and stories of others to influence how we interact with the world.
It is my hope that this blog may act as a hammer of inspiration…just enough to crack the plaster, so you can remember the true you, the bright soul of your great self – possessing an incomparable gift to share with the world.
To aid in this inspiration and remembering process, let me share a recent experience that has given me irrefutable proof that we each have far more greatness within than we ever dare to dream.
The experience I refer to is the wonder of becoming a father for the first time
Now I'm not trying to get into a 'my baby's cuter than your baby' competition…but ain't she a stunner!?
Yet the amazing thing is that before Freya's arrival just over 9 months ago, I thought I was operating at pretty near my peak potential. The final draft of my book was being edited, I was getting more and more opportunities to wow people with my personalized poetry gifts and live performances, and the youth projects I was working on in my home town were flourishing.
Then Freya arrived…and she obliterated all perceptions I had of what is possible.
It took me a while to understand what was going on. Being a new parent tends to be quite an all-consuming task. Yet once I had some time to reflect, the clarity and insights came thick and fast.
I particularly remember driving back from London one afternoon, I guess in late October, and being powerfully aware of a new feeling. The more I became aware of it, the more I realized that what I was feeling was a whole new level and kind of love.
One of the ways this new love announced itself was through my being able to experience a brand new reason to look forward to going home. It was a feeling that actually felt a bit like cheating on my wife! Let me explain…
Previously, I'd look forward to going home because I knew I'd get to see Fan, and to experience anew the stunning and indescribably loving smile that would greet me each time I'd walk through the door, not to mention the feel of her lips when we'd kiss.
Now, whilst all those thrills still await me even today, there is a new thrill, one that is currently more intoxicating than my wife can hope to compete with (hence feeling like I'm cheating) – it is the smile of unbridled delight that transforms Freya's face the instant she sees me arrive home.
It is a smile that ignites in me something I never would have thought possible. A love that has expanded the whole of who I am. I know that if I am capable of such love, there is more gold within me than I had ever imagined.
Knowing this has uplifted everything – I have a more intense and powerful love for Fan, for my family, for my friends, for the earth and for all those who I may be able to serve in a small or big way. I am joyously aware that if I am capable of loving in a brand new way, I must equally be capable of doing other things I had previously thought impossible.
I share this example because the same incredible potential is present in you.
I don't know how thick your plaster is, or how much of it you have already removed…but I do know that there is a golden you, and it is more beautiful and powerful than my words could ever capture.
The trouble is that our society can be a little too good at belittling your gold in an effort to sell you more plaster. The consequence of this is that too many people either undervalue their gold, or, worse, cannot even see it anymore.
One of the profound gifts I have been given, as a result of working with some of the UK's most talented yet neglected young people, is a knack of helping others to discover and start sharing their gold with the world.
If that's something you'd like to do more of, and if, after reading this, you think I might be a good place to start…then please give me a call or a text and let's start chipping away at that plaster.
You can get me on oh seven nine three nine eight five five seven seven four
Or George(at)CreativeUprising.com
Whatever happens…keep letting your gold amaze people.
Massive love.
George.
p.s. if you enjoyed this, I'd love to hear what you thought via the comments, or you could give it a 'share'.
Use Facebook to Comment on this Post